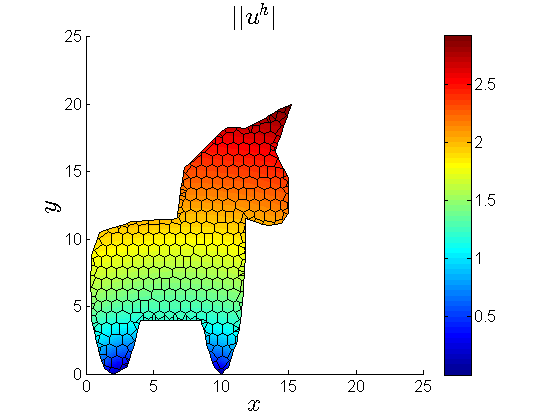 Release of Veamy v2.1
Post by:

alejandro

September 15, 2018

Comments off
Veamy: an extensible object-oriented C++ library for the virtual element method
Release of Veamy v2.1

>>  From Veamy v2.0 to Veamy 2.1:
Add several test files for testing Feamy, the FEM module of Veamy.
Fix some bugs.
Update Veamy Primer: more details are added to sections devoted to using external mesh files (PolyMesher mesh and generic mesh files); Appendix A is added to explain the general structure of the main C++ setup file.
>>  From Veamy v1.1.1 to Veamy 2.0:
Add documentation to the source code.
Implement VEM for the two-dimensional Poisson problem.
Implement Feamy, a FEM module that uses three-node triangular finite elements for the solution of the two dimensional linear elastostatic problem.
Add methods to compute the L2-norm and H1-seminorm of the error.
Improve the built-in polygonal mesh generator.
Change to Eigen's sparse solver for the solution of the system of linear equations.
Add additional test files.
New simplified methods to impose essential and Neumann boundary conditions.
Fix several bugs.
>>  From Veamy 1.0 to Veamy v1.1.1:
Add documentation.
Add method to include custom precision for printing output data.
Add plane stress material formulation.
Update installation instructions.
Include more tests and mesh examples.
Fix several bugs.